Ask chelsa!
Your payroll and benefits questions answered
What Is an EFAP and How Does it Work?
Your benefit plan is made up of a lot more than traditional health and dental coverage. GroupHEALTH includes exclusive access to LifeWorks, your EFAP (Employee & Family Assistance Program).
LifeWorks offers 24/7 support with life, health, family, money, work & everything in-between. You can access professional and confidential support, on a variety of personal and work-related topics.
Whether you have questions about handling stress, maintaining relationships, challenges at work, parenting & childcare, managing money, caring for an older relative, or mental health issues, you can connect to LifeWorks for confidential information and support.
WHAT YOU GET WITH LIFEWORKS
24/7 BEST-IN-CLASS COUNSELLING
Access LifeWorks' network of clinical counsellors and certified coaches via phone, chat, video, or in person to help you through life's work and personal challenges, any time, 24/7, 365 days a year.
FIND HELPFUL RESOURCES, FAST
Search the website or mobile app by topic to find the resources you need. Enjoy regular article, video, and podcast updates and recommendations customized for you.
TOOLKITS
Equip yourself to take on life's challenges with action oriented strategies designed to help you succeed
HOW CAN I ACCESS LIFEWORKS?
Because you're a member of a GroupHEALTH Benefit plan, LifeWorks is available to you through the mobile app, website, or over the phone.
Download the Mobile App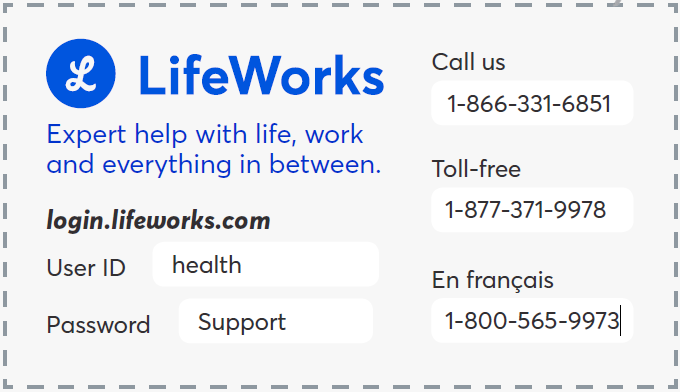 Search 'LifeWorks' in your phone's App Store, download,
log in and enjoy LifeWorks resources on-the-go!
Sign on to the LifeWorks desktop website to check out what
LifeWorks has to offer
Call LifeWorks Toll-Free
Call at any time to talk to access personalized support in real time.
1-866-331-6851 | 1-877-371-9978


Have a payroll or benefits question? I'd love to hear from you. Click on the link below to submit your questions.